This article was originally published on Nina Scott's Journalism class website on November 17th, 2013, with the byline: "Alex Anderlik is a senior in the Class of 2014 at Phillips Academy but hails from Missoula, Montana. When he's not wasting time on the Internet, he's trying to figure out how to waste more time on the Internet. You can reach him at google.com/+AlexAnderlik."
---
The following information comes from a letter by Susan Garth Stott to the Phillips Academy trustees on February 4, 2003, retrieved from the Phillips Academy Archives.
The graveyard is quite literally full of significant people and their families, so there is very little room for new burials. However, it is still possible to be laid to rest there if you have been a faculty member or a trustee of Phillips Academy for at least five years.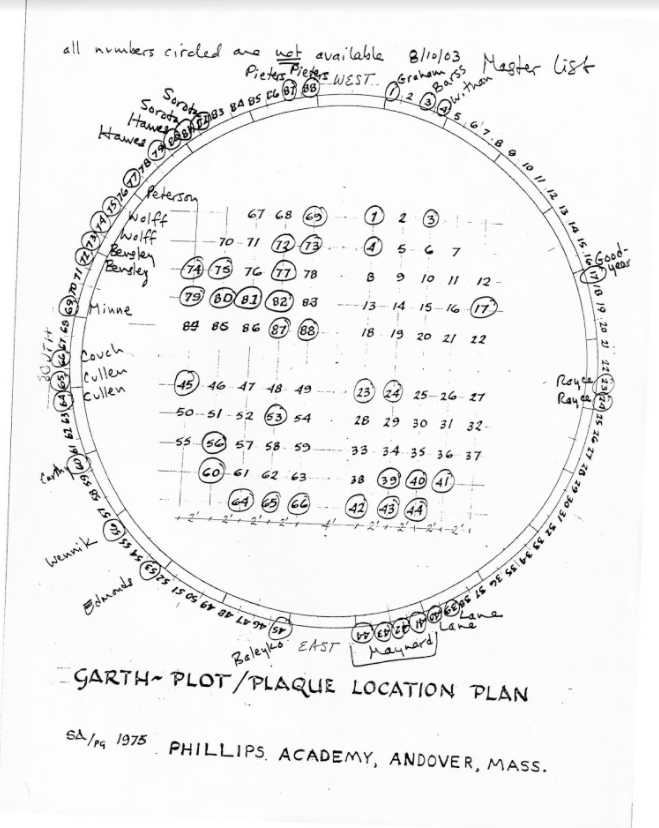 There are over 60 places for urn burials open in the garth, the large circular mound in the north-western corner of the cemetery.
The prices of the lots as of June 2001 are $1,000 per burial space. A full lot is 20 feet by 25 feet, enough room for 12 bodies, but lots were also sold as halves, thirds, quarters, and sixths. Right now, most of these are already in use or bought to be used in the future.
Cremated bodies can be placed in the garth for $500 individually, or $750 for a double burial.
The actual opening of the graves costs $800 for a traditional full-body burial and $450 for urns, with an additional $100 charge for burials on weekends or in the winter.
---